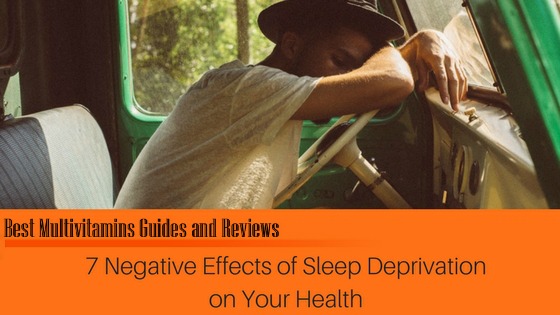 Have you been sacrificing a lot of your nights burning the midnight oil over work, a Netflix binge, or maybe a heartbreak? If you are not getting enough shuteye, these reasons just might convince you to improve your sleep hygiene. Take note of these seven health effects that springs out of poor sleeping habits.
Poor work performance
Your brain doesn't work efficiently when you are sleep deprived. Even when you rely on coffee to keep you running, this can only go on for so long before something goes awry. Poor work performance is expected because sleep deprivation also deprives your brain to recuperate from the day's load. Yes, sleep directly impacts cognitive function.
Professor Vicki Culpin of the Hult International Business School conducted a research which looked into the damaging effects of sleep deprivation among business professionals. Having surveyed over 1,000 professionals the results showed that lack of sleep also affects one's focus or motivation. It can also lead to bad decision making or irritability. The cumulative effect will contribute to a less productive workforce.
If you want to excel at your job, while still maintaining your sanity, invest in good sleep.
Bust your sex drive
For the guys, testosterone is your body's natural juice that keeps the drive going. The amount of sleep you are getting directly impacts your testosterone levels. So, when you are not getting enough sleep, you crash your testosterone levels – and can you just imagine the damage if you keep doing this on a daily basis?
Meanwhile, in a study published in the May 2015 issue of the Journal of Sexual Medicine showed that an hour of extra sleep every night increases the odds that a woman will have sex with her partner by 14%. The same study showed that chronic lack of sleep can result in less vaginal arousal during sex than those who had enough shuteye every night. The average sleeping for those women who had longer sleeping hours is 7 hours and 22 minutes.
Accidents
Did you know that the Chernobyl nuclear disaster was an accident caused by sleep deprivation? Aside from the danger that it poses on your body, there is a good chance that you will also be a danger to your community. With a lack of focus and fatigue, this can lead to potential injuries simply because you doze off while performing certain tasks during the day.
Being sleep deprived negatively impacts our ability to access a higher-level of mental performance. Certain daily tasks require critical decision-making, and when our ability to do that is impaired, we put ourselves and the lives of those around us at risk.
Emotional wreck
Not getting enough shuteye also affects how you display emotional intelligence. It also makes you more irritable, angry and hostile. It is also associated with feeling more depressed and greater emotional reactivity (more likely to react negatively when something doesn't go well).
It all boils down to the amygdala – the region of the brain that is associated with emotions. Lack of sleep fires signals that are out of sync, making it harder for us to control emotional responses resulting in unwarranted emotional outbursts. Consequently, the brain's ability to determine what is important then becomes compromised causing you to overreact to neutral events.
Weight Gain
Sleep deprivation affects the hormones that regulate hunger and stimulates appetite – grehlin and leptin. Studies show that recurrent sleep deprivation in men increased their preferences for high caloric food, as well as overall calorie intake. Another study also showed that women with less than 6 hours of sleep every night, or more than 9 hours, were more likely to gain 11 pounds compared to those who were able to get a good 7 hours.
Poor sleeping habits also altered molecular ties. It affected endocannabinoid levels which are the chemical signals that affect appetite and the brain's reward system. As the brain's motivation and reward circuits are affected, this sparks a desire for sweets or unhealthy food options.
 Forgetfulness
If you want to keep your memory sharp even as you advance in age, you need to invest hours on your sleep hygiene. Limited restful sleep can contribute to memory gaps. Did you know that people who only sleep up to four hours a night, or those who wake up regularly throughout the night are more at risk for developing dementia? Not being able to achieve restful sleep can trigger the formation of plaques in the brain, which is also linked to Alzheimer's disease.
Skin Aging
Did you know that not only does sleep deprivation impact skin aging, but even poor sleep quality also does the same thing? This means that you not only focus on the hours but whether if you are well-rested while you're at it. In a study that was commissioned by Estee Lauder, it was discovered that poor sleepers showed increased signs of skin aging and a slower recovery from environmental stressors, like skin barrier disruption or ultraviolet (UV) radiation.
If you want your skin to look radiant and youthful, investing in good sleep can help you ward off the premature signs of skin aging, or improve the skin's ability to bounce back after sun exposure.
A lot of people are struggling in achieving good sleeping hours and even quality snooze. It has been a global epidemic that is caused by our lifestyle, work, or certain health concerns. If you are losing sleep on a regular basis, this creates a domino-effect throughout your body that leads to an unhealthy or even dangerous outcome.
With the string of destructive effects that it could cause, constant sleep deprivation can make a significant negative impact on your nervous system. In your efforts to restore optimum function, lifestyle change, a good sleep hygiene, and supplements can help you on your way to good health! These efforts can echo its benefits throughout your body, so make the gradual changes today.
Check out our list of reviews on a range of multivitamin supplements that will address your health concerns and be guided accordingly. Follow our updates here, and read insightful tidbits to know which products to invest in.
Photo Credit: Pexels