Are you tired of looking tired and old? Are you desperate for a reliable solution? If you still believe that there could be a better and more suitable skin care for you, then you might want to consider Xtend-Life's Womens – Exfoliating Scrub
Our concerns as consumers
When we go through shelves of beauty products with all types of promises and special ingredients, sometimes we end up helpless with all these choices. It's so easy getting a headache when you are faced with so many products that pretty much gives the same thing, and yet sound so different.
If you want to improve your chances of landing a good product, the American Society for Dermatologic Surgery gives the following pointers when looking for over-the-counter beauty products:
Know your skin type.
Create a daily skin care routine.
Be cautious about "miracle" products.
Never buy products without researching for it.
See to it that a product contains sunscreen
Never hesitate asking a dermatologic surgeon
The question now is knowing which ingredients we should be looking for in a beauty product. WebMD gives us a list which include the following:
Alpha lipoic acid
Green tea extract
Retinol
Vitamin C
Coenzyme Q-10
Caffeine
Alpha Hydroxy Acids (AHAs)
Salicylic Acid
Hyaluronic Acid
Having mentioned those basics, let's get into how Xtend-Life's Age Defying Exfoliating Scrub fare against a host of beauty products.
Age Defying Exfoliating Scrub/Women's Exfoliating Scrub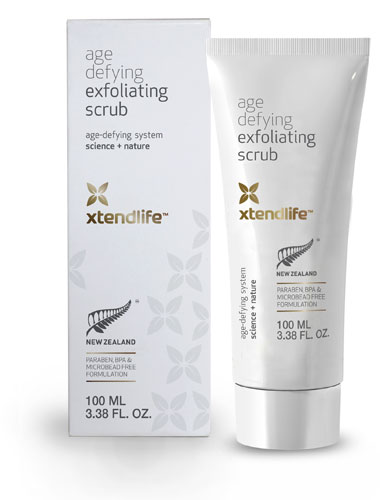 One thing remarkable about this product is the fact that while it promotes youthful skin, it also environment-friendly – at least that's how they advertise this product to be.
If you have seen the news lately, you might have heard of how the microbeads from beauty products are affecting the environment. It so happens that these beads, which is supposed to help in the exfoliating process, does not dissolve at all. These are made from polyethylene beads which simply wash down the drain and eventually enter the world's supply system. What is more devastating is the fact that these little beads can survive for more than a hundred years and concurrently contaminate our water system and all living organisms in it. Can you imagine the impact it could then create to marine life?
Xtend-Life, which is a family-owned company, pushes for quality products while saving the oceans. In keeping with their stance on environmental protection the company see to it that they don't use polyethylene beads. Having reviewed several products by the company before, and having known the quality of products they put forward, this is definitely an added bonus. It shows how they take the extra precautions in creating their product, although this has been introduced only quite recently.
Ingredients
Rhyolite lava rock – This is a natural volcanic stone pumice which is used for the exfoliating action. It is finely ground and course enough to scrub away impurities on the surface. Unlike other scrubs, this is gentler on the skin, and it also supports and moisturizes the skin.
Apple peel – This is also used as a natural exfoliator which also creates a gentle exfoliating action, and it also helps reverse free radical damage to the skin.
Natural fruit enzymes – It's not quite clear what these natural fruit enzymes are, but according to the information on the website, they claim that these improve the texture of the skin.
Shea butter – This is a popular moisturizing ingredient which simply melts at body temperature and it easily absorbs in the skin.
Jojoba oil – This is also another natural moisturizer that is excellent at locking in moisture without leaving behind any residue. It has a light consistency, but it provides impeccable moisturizing action.
Grapeseed oil – This is known to have excellent antioxidant properties which help lock in moisture. It is a rich source of vitamin E which promotes the natural growth and health of new skin cells which is unveiled after exfoliation.
Kiwifruit Extract – Another source of antioxidant this ingredient supports the skin's health while supporting healthy pH levels on the surface.
Manuka Honey – native to New Zealand, it has excellent moisturizing ability. It also nourishes the skin with antioxidants, nutrients, and minerals.
Avocado Oil – This is another rich source of vitamin E that nourishes the skin to keep it healthy and moisturized. It is also responsible for the non-greasy feel of the product.
Judging from the content of this product, I would say that I might actually consider it. We all want better exfoliation, but that doesn't mean we want to peel of our skin in the process. And they made sure that this does not happen by using the gentler action of rhyolite lava rocks and powdered apple peel. It may not have the ingredients mentioned by the WebMD, but let's just say that those are not cut and dry criteria. But it would have been better if it contained one or two of them. However, the other ingredients are also excellent exfoliant and antiaging properties. I would like to point out the fact that they also made sure that the scrub promotes the ideal skin pH level, something which I believe other product fail to consider since they tend to be rather harsh.
How it is used
The website provides specific instructions noting that the scrub is not intended to be used daily. Instead, they specified that it has to be used in accordance to what is applicable for a certain age group. So for those between the ages 25-35, it has to be used once a week. For people within 35-45, it should be twice a week, and three to four times a week for those 45 and above.
The product has to be used in the evening, this is probably to give your skin a rest after the exfoliating process. Take enough cream that would cover a quarter then rub it on your cheeks and the T-zone making sure that you avoid the skin around the eyes. It is best to rub it in a circular motion for about two minutes. Then, rinse it thoroughly with warm water and they advise to follow this up with their Restorative Night Cream.
How it works
The product buffs the skin by removing the impurities from the surface and at the same time keeping it moisturized.* Other nutrients also nourish the skin and promote the renewal process to make it stronger and youthful-looking.* Aside from exfoliating the skin it also promotes better circulation underneath which helps to improve texture.*
They did note that the product will make your skin appear more vibrant, smooth and healthy.* It will also feel fresh soft.* However, it was also mentioned that you can see better results when you use it with other of Xtend-Life beauty products.
Price and Purchase
A 100 ml tube of the Age Defying Exfoliating Scrub costs $26.50. This is actually mid-range and reasonable. If you want to get more value for your money, you can get a discount by signing up on their website. For members, the price can now become $23.85 a tube.
What I do note about Xtend-Life is that they don't offer shady free trial offers. I think this is better than havening to call in and make cancellations because the promo was only good for a few days. They do have a 365-day 100% money back guarantee, however, I would suggest that you read their terms and agreement for other details.
Benefit
It is good that the product aims at promoting a health pH level for the skin because this is what scrubs often overlook leaving you with dry and irritated skin.
It has a good amount of moisturizing going on, not only on the surface but underneath as well.*
It is gentle on the skin by using another ingredient to create the exfoliating action, unlike other products that use walnut shells, apricot seeds, and other abrasives which create microscopic tears on the skin.*
The company took great pains to ensure that this product is environmentally friendly – which is a definite plus.
The price is reasonable and affordable.
They offer a money back guarantee for a year.
Drawbacks
The product is just recently introduced into the market, so there is not much information and long term account of how it works and improves the skin.
Final Verdict
Based on what I learned about the product, I find it to be a good brand of exfoliant to try. I have not encountered a product that use lava rocks as its exfoliating agent, and this shows that they want to stand against the grain to create something new and safe. Xtend-Life is known for their drive towards excellent products, and I am happy that aside from supplements, they are also touching up on skin care lines.
Although new in the market, I believe Womens – Exfoliating Scrub or Age Defying Exfoliating Scrub makes for a good product to try. There have been good reviews, although they may not be as many. But these are not too bad for a newbie exfoliant.
Age Defying Exfoliating Scrub Review
This is a product which aims to provide a gentle exfoliating action with the use of rhyolite rocks and powdered apple peel.
Age Defying Exfoliating Scrub
Date Published: 11/25/2015
This exfoliant is a newbie in the market of exfoliants, and yet it offers something new and gentle in contrast to the common ingredients.
*The product and its claims have not been reviewed by the FDA. The reactions may not be the same for everyone, and the effects are not definite, given that our physiological makeup create different responses to different ingredients in a product.