Have you come face to face with the symptoms of menopause? Are you aiming to be healthier so that you can be in the best condition to conceive? Have you experienced very painful menstrual cramps that would leave you bedridden for a day? These are concerns a lot of women have to deal with their reproductive health as part of aging. Some experience it much earlier than others, and it can be much harder for one woman compared to the next. Xtend-Life's Female Rejuvenator promises to give you a healthier reproductive health even beyond your golden years. Let's see if it does hold up to its word.
A woman's reproductive health 
For women, menstruation can be a bane of their existence. Even though it is a very important biological function, a lot of the ladies dread that time of the month. It's not because it's a bad thing, but some end up with debilitating dysmenorrhea, head splitting headaches, mood swings, bad skin, and bloating. As much as these are necessary, they can be very painful. On top of that 90% of women also deal emotional stress as part of PMS (premenstrual syndrome).
But what is more interesting about the female biology is that these menstruations don't go away without a "bang." Menopause can also be just as hard.
Even in the months or years that leads to menopause can be a struggle for women. They experience symptoms like irregular periods, hot flashes, mood swings, vaginal dryness, thinning hair, night sweats, dry skin, sleep problems, slow metabolism and weight gain.
There is a fortunate chunk of the female population who are able to handle these problems. But for those who take it more severely, doctors provide them with pharmacological treatments.
The commonly prescribed medications for PMS are antidepressants for mood swings, hormonal birth control for PMDD (premenstrual dysphoric disorder), and nonsteroidal anti-inflammatory drugs (NSAIDS) for pain. These have been proven to be effective however they do possess certain side effects; and some of these can be potentially serious.
This is where Xtend-Life Female Rejuvenator comes in. They aim to provide women with a safer natural option in managing reproductive health problems associated with PMS and menopause.
Xtend-Life Female Rejuvenator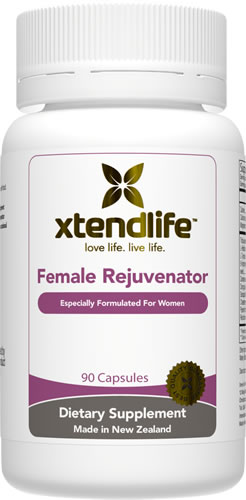 This is a natural supplement that is formulated by a company called Xtend-Life, which has a number of health supplements under their belt. What I learned about this particular brand is that it has a good reputation when it comes to quality. They emphasize the importance of research in finding the finest ingredients, and the best formulations to give the consumers the supplement that is a step above the usual brands. They have the certifications and facilities to ensure customers that they mean what they say, which I think is a comforting thought when shelling out money for my health.
Female Rejuvenator, in particular, is a product that they created to promote better reproductive health in women. It is mentioned on their website that this supplement is suitable for all ages, and it can be a "stand-alone" formula. It can also be taken together with Xtend-Life Total Balance Women's Plus.
When I searched about this product, I was pleased to see several reviews. This goes to show that it is making ripples in the market, and what is more, is that there are people who claim that it worked for them. This goes to say that the product is not just some anonymous supplement that is no better than the rest, but it is something that is making others notice.
Ingredients
It is important that we look into the components that make Female Rejuvenator the product that some women praise it for. The website list the following ingredients:
HTP
Calcium Oxide
L-Histidine Base
L-tyrosine
Magnesium Oxide
Herbal Extracts
Black Cohosh
Chasteberry
Damiana
Piperine
Red Clover
Sarsaparilla
Tribulus Terrestris
As you can see, the product contains a combination of minerals, amino acids, and herbal extracts. Together they promote better sexual health, while eliminating the untoward processes.
The Xtend-Life website provides extensive information about each of this product, which only proves that they carefully studied and chose each ingredient in their formulas. It is also refreshing to find products that offer such benefits from a wide range of ingredients which shows that they want their bases covered.
If you compare this to other supplements, all they give you are benefits. They would stuff you with all these promises, but they would just end there. I have to commend this brand because they go beyond the usual and emphasizes the importance of customer information because this allows us to make smart buying choices. It allows us to appreciate what we are really getting from their product and why we need them.
Dosage
What I notice about Xtend-Life products is that they require several number of capsules to be taken daily. This can be cumbersome for most people, and also difficult especially for those who are not so enthusiastic about taking capsules.
It is specified on the label that adults need to take 3 capsules daily. In fine print they added that for optimal results, you need to split this into 2 doses per day; one in the morning and afternoon with food.
An entire bottle is good for a full month's use because it contains 90 capsules.
How it works
Female Rejuvenator is a supplement that is formulated to help you deal with the physical and emotional symptoms associated with PMS and menopause.* The ingredients are carefully handpicked to provide relief from the common signs and symptoms of these conditions.*
It helps balance your hormone levels and your reproductive system.* It helps restore lost libido allowing you to bring back the excitement in the bedroom.* The herbal extracts are all backed by studies to help alleviate the symptoms of a problematic menopause, and enhance your sexual experience throughout life.*
This product hits two birds with one stone, making it a very good addition to your health arsenal.
Price and  Purchase
A bottle of Female Rejuvenator costs $49.30, and you can purchase it right on the Xtend-Life website. You just have to click the ADD TO CART tab found at the right upper hand corner. They don't have free trials, which I think is okay given that such arrangements are really not "free" so it saves us from the confusion. But they do offer bulk purchase with volume discounts.
If you compare the price to other similar supplements, you may observe that Female Rejuvenator is a tad more expensive. If you rationalize this, it would be much easier to understand when you grasp the amount of research that went into developing the product. Adding to that, the quality is also a major factor because with their COA or certificate of analysis, it goes to show that what they put on the label is exactly what is on every tablet, and not just cheap fillers or extenders.
Benefits
It was mentioned on their website that Female Rejuvenator can also help regulate ovulation and promote fertility which is definitely good news for those who are trying to conceive. They shared that hers like Agnus cactus and tribulus terrestris, which are found in the product, are the very ingredients that can help achieve this.*
 It earned a lot of good reviews from women who have been regularly using it.
It has been around for quite some time now, which means that it has been tried and tested.
It uses natural ingredients to create pain relief and female reproductive health.*
Drawbacks
It takes a lot of pills to maintain daily.
It is expensive compared to other brands.
There are feedback from some users who claimed that it did not give them the results they expected.
Final Verdict
It is good that Xtend-Life included a product that caters to female reproductive health. Given their reputation for quality, it is a comforting thought that there is something that ladies can go to for those painful PMS and those uncomfortable menopausal period.
Based on the ingredients included, and the amount of studies that went into creating Female Rejuvenator, I can say that this a product that women should consider. It is good that they don't just spit out promises but also pointed out that it may not create the same results in everyone. This shows integrity because they are honest enough to acknowledge the limitations. Even with a price that is a step above the others, as a consumer, I am willing to consider that given the quality of product that I am getting.
It is not just some random female supplement because Female Rejuvenator also earned a lot of mention online. This means that it is effective enough to stir some buzz, and there are several good ones to vouch for it. Overall, I find a lot of good things for me to recommend this product. I believe my forty bucks will be well worth it.
*The claims provided by this product may not be the same for everyone due to the fact that every person reacts differently to the ingredients found in this formula. It is also for this purpose that you take caution when using this product. These claims have not been evaluated by the FDA. It is best to seek medical advice before taking any supplement.