Diabetes is one of the major killers in the world. With the unhealthy lifestyle and diet a lot of us have, we are all at risk of falling down that path. But this is not just some kind of transient sickness, instead it is a serious condition that could cost you your life.
Systemic Care is a product that aims to prevent that downward spiral which most of use unknowingly put ourselves into. Let's understand the repercusions and see what this product is able to do.
What is Insulin?
Insulin is a hormone produced by the pancreas. It that plays an integral part of the body's ability to metabolize or use nutrients as energy – and that includes glucose.  Insulin has several actions in the body which includes the following:
It directs the cells in the liver, muscle and fat to take up glucose found in your blood to convert into glycogen which can be stored in your muscles and liver.
It prevents the use of fat as a source of energy. In instances where your body does not take up glucose because insulin levels are low, it uses your fats instead.
It regulates the uptake of amino acid by the body cells.
It plays an important role in controlling other systems in the body.
Insulin Resistance
Insulin resistance is a condition where the body produced insulin but is not able to use it effectively. What happens is that glucose ends up building up in the blood instead of being absorbed by the cells. This leads to prediabetes or type 2 diabetes. This also increases your risk for early heart disease.
This is the problem that Systemic Care aims to prevent, but let's see if it does hold up to what it claims to do.
Xtend-Life's Systemic Care
Xtend-Life is a company that has been producing several supplements over the years. What I find commendable about this brand is their principle and committed drive towards excellence.
Systemic Care is another example of their quality products which has undergone studies and careful formulation to create a reliable supplement. It helps control the detrimental effects of poor diet and lifestyle to our blood sugar levels.
It has a variety of nutrients particularly chosen for the job. But what makes these more potent is the fact that the company imposes strict manufacturing procedures to ensure quality supplements.
Ingredients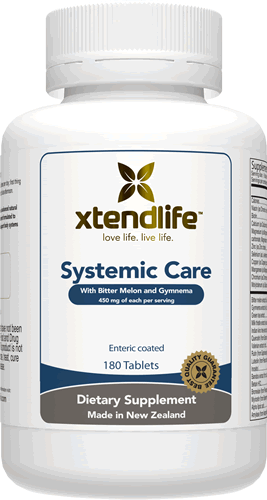 Biotin
Calcium
Magnesium
Zinc
Selenium
Copper
Manganese
Chromium
Molybdenum
Gymnema extract
Bitter melon extract
Green tea extract
Milk thistle extract
Indian kino tree extract
Quercetin
Valerian extract
Rutin
Luteolin
Inositol
Betain HCL
Bromelain
Myricetin
Alpha lipoic acid
Amylase
Lipase
MSM (Methyl sulfonyl methane)
Black cumin extract
Piperine
It is obvious that Systemic Care contains a wide selection of vitamins and minerals. They went on to add other nutrients such as enzymes and herbal extracts to further promote better health and nourishment.*
It was also specified that the product contains peanut, so this can be bad news for those with allergies. They do add that it does not contain gluten, soy, dairy and shellfish.
Directions for Use
The recommended dose for Systemic Care is to take 6 tablets a day for optimum efficacy. This is what I observe with Xtend-Life products, they require more tablets to be taken daily than most products. On top of that they also advise to take Systemic Care with 2 soft gels of Omega3/DHA Fish Oil. They also added that if you use Total Balance, which is also another supplement under Xtend-Life, you can reduce your dosage to 3-4 tablets per day.
They specified that Systemic Care should not be used as a replacement for any diabetes medication. This supplement is formulated only to be a part of your diet, particularly among those who are taking insulin to stabilize and maintain healthy blood sugar levels. It is best that you consult with your doctor first to ensure that everything is safe.
How it works
As you can see, this product contains an impressive list of ingredients. The company carefully thought it out to ensure that this supplement provides for the necessary nourishment that the body needs to be able to stabilize blood sugar levels.* It is no replacement for medications but it does help promote a healthier system that is conducive for normalizing blood sugar levels.
Systemic Care supports the vital organs that support insuline production and glucose metabolism to help them function in the best condition.
Price and purchase
A bottle of Systemic Care, which contains 180 tablets, costs $74. This is good for a full month's use. However, if you sign-up for a membership on their website, you will be given discounts for every purchase. So this particular supplement could now go for $66.60.
What I like about their purchasing arrangment is that you are given a one year money-back guarantee. This is definitely way more than what most companies would offer you. It allows you to try out the product without any pressure, instead of being held in with those shady "trial offers."
Advantages
This product earned a lot of good feedback online.
It does not contain nay additives.
Systemic Care does not replace the action of medications but promote better health and function for the organs involved.*
It has an extensive list of ingredients that nourishes the system to perform at its optimum.
They have a one-year money-back guarantee.
Disadvantages
The product is rather expensive.
Some of the ingredients may pose certain reactions to any medications that you may be taking.
Final Verdict
This product is not a replacement for any diabetes medication, and I am glad that they made that clear. It is something that has to be taken with precaution to avoid any interactions with medications that you may be taking.
What I do like about this product is that it is rich with several nutrients that not only nourishes the organs that are related to sugar metabolism, but your entire system as well.
Systemic Care is definitely a product to try, regardless of its price. It is worth the money given the fact that it is able to create the improvement it promises. Although, results may not be the same for everyone, but at least you have a full year to return the product if ever you are unhappy with how it is  working for you.
With diabetes so prevalent nowadays, it pays to have something that can prevent it altogether.
*The claims provided by this product may not be the same for everyone due to the fact that every person reacts differently to the ingredients found in this formula. It is also for this purpose that you take caution when using this product. These claims have not been evaluated by the FDA. It is best to seek medical advice before taking any supplement.