Do you easily find yourself tired when you are only halfway through your day? Are you finding it hard to concentrate on tasks? Or do you find yourself slowly succumbing to some threats of aging?
It is only normal to find ourselves feeling worn out when faced with several stressors pounding at our defenses everyday. When you fail to give your body with nutrients to help it bounce back, it eventually gives in, and in an insidious manner aging creeps up on you much earlier.  Xtend-Life's Total Balance Men's is a supplement that promises to steer you away from the potential rut you could risk exposing your health into. Let's see how this is able to deliver what it claims.
When it comes to health maintenance, what are the efforts you've been doing so far to keep your body in tip-top shape?
Health-seeking behaviour in men
There are several studies conducted on the health-seeking behaviour that men have. I read three studies from Australia, United Kingdom, and the US, and I learned that this characteristic in men varies. There are several factors that affect this behaviour, but one thing I noticed is that men use health services less frequently than women do.
However, with usual degenerative conditions showing earlier than usual, this can already be a cause for concern. You can even hear guys stricken with sudden heart attacks in their early thirties, or those suffering from high cholesterol levels at a very early age. The constant threat of diabetes is also palpable especially if you do not discipline your diet or alcohol binging. There is a host of factors that can make you fall off the health wagon especially when the right opportunity and vulnerability of your immune system is there. On top of that, the apparent lack of urgency in most men when it comes to making choices to promote better health is also a problem
How can you afford to get sick when there is so much more to live for? You'd be sacrificing your work, quality time with family and friends, and pretty much all the good things you could have enjoyed if only you have the best health.
The way we diet is a major part in maintaining health. However, it is also a fact that we often fall short of our daily requirements. We can't have all the nutrients we need in one meal. This is why experts introduce the benefits of taking supplements.
The question now is, how does Total Balance Men's fit the bill? How does it cater particularly for male health?
Total Balance Men's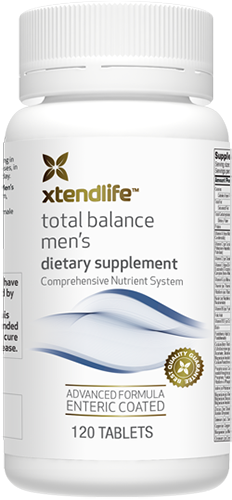 This supplement is a product of Xtend-Life which is formulated for a man's specific needs. It targets the nutritional requirements men need to correct hormonal changes as they
age, which may even lead to serious conditions if left unchecked and unmanaged.
What I learned about Total Balance Men's is that it has an impressive number of nutrients which are carefully selected for men aged 30 plus. Having reviewed other Xtend-Life products in the past, I noticed that they do take the extra step in rising above the usual supplements. For instance, in this case they not only give you the usual vitamins and minerals that you often see in other brands. The company added bio-active ingredients and a unique delivery system, which gives it an edge and better efficiency.
They place importance in using natural ingredients to restore testosterone balance and prostate health, which are common concerns at this age. So the premise of this supplement is not only about health promotion, but also disease prevention. And what is good about it is that it targets specific conditions that relate to men.
This product should not be confused with another version which is Total Balance Men's Premium. You can learn more about it here.
Ingredients
This product contains a total of 76 ingredients which are chosen for specific purposes for the ultimate benefit of men in their thirties.
Male Health Support
Beta-Sitosterol
Chrysin
Isoflavones
Lycopene
Nettle Root Extract
Red Clover Extract
Saw Palmetto
Zinc Acetate
Essential Minerals
Boron Citrate
Calcium Citrate
Calcium D-Glucarate
Chromium Nicotinate
Copper Gluconate
Magnesium Citrate
Manganese Citrate
MSM (Methylsulfonylmethane)
Potassium Citrate
L-Selenomethionine
Silicon
Zinc Citrate
Trace Minerals
Iodine
Molybedenum
Rubidium
Strontium
Tungsten
Enzymes
Amylase
Bromelain
Lipase
Nattozimes
Vitamins and Co-Factors
Biotin
Folic Acid
Inositol
PABA
Tocotrienol
Vitamin A
Vitamin B1
Vitamin B2
Vitamin B3
Vitamin B5
Vitamin B6
Vitamin B12
Vitamin C
Vitamin D3
Vitamin E
Vitamine K2
Amino Acids & Specialty Nutrients
Adenosine Triphosphate
Alpha Lipoic Acid
Astaxanthin
Beta 1,3-Glucan
Choline Bitartrate
Co-Enzyme Q-10
DMG
L-Arginine HCL
L-Carnosine
L-Glutathione
L-Methionine
L-Tyrosine
Lutein
Luteolin
N-Acetyl Glucosamine
N-Acetyl L-Cysteine
Phosphatidyl Choine
Piperine
Policosanol
Resveratrol
Rutin
SAMe
TMG
Zeaxanthine
Herbal Extracts
Alfalfa Extract
Bacopa Extract
Black Cumin Extract
Gingko Biloba Extract
Green Tea Extract
Other ingredients include:
Calcium Phosphatee
Carboxymethyl
Cellulose
Dextrose
Magnesium Stearate
Microcrystalline
Cellulose Silicon Dioxide
Nattozimes
Optisharp
Tocomin
A typical consumer may see a host of nutrients listed on the label. But if you look into the details as to what each of these is able to contribute, you will see that these ingredients actually hold special benefits that targets specific needs. Chrysin, for instance helps in naturally raising testosterone levels, and it also prevents testosterone from being converted to estrogen. Another is Nettle extract, which is known to provide men with the necessary nourishment to promote a healthier prostate. Calciu D-Glucarate also has the ability to help prevent prostate cancer.
The presence of Zeaxanthin and Astaxanthin is also worth noting because these two are very expensive ingredients. However, it protects our eyes especially from the effects of aging.
You can see that they did went above and beyond the usual roster of ingredients you would find in most supplements. They want to cover the bases to prevent the usual health problems men encounter with old age.
Directions
According to their website, you need to take 4 tablets each day. Ideally, this should be taken in two doses. Two in the morning and another two around lunch time, or early in the evening.
How it works
The product is mainly marketed to promote better testosterone levels as men age, due to the fact that this male hormone declines as a man hits his thirties. Since this creates a number of negative effects to your health, this supplement helps counter that. On top of that, Total Balance Men's targets the main causes of aging such as free radicals (a product from stress and other environmental factors), glycation, methylation, inflammation, and DNA degeneration.*
With continued use this product is able to promote better rest and sleep, an improved sense of well-being, better sexual satisfaction, an improved eyesight, and clearer thinking. * All of the ingredients mentioned work synergistically to give your organs the necessary help it needs to promote optimal health.*
Due to the enteric coating, the tablets are well protected from the harsh stomach acids which could render this product useless. This is a measure that only pharmaceutical companies employ, and for a supplement to have this is definitely a plus.
Price and Purchase details
A bottle contains 120 enteric-coated tablets which is good for a 30-day supply. This costs $85.60 each, and you can buy this at the Xtend-Life website. I suggest that you purchase it directly from them to ensure that you are getting the authentic version. You can never be too careful because the market is teeming with shady sellers who will only rip you off.
If you sign-up for a membership on their website, you get to enjoy discounts on all their products. So I suggest that you make use of this advantage. Also, I advise that you read their terms and conditions prior to making any purchase to avoid confusion, particularly with charges.
They don't offer free trials, which is actually a good thing because those things only add confusion along the way.
How is it different from Total Balance Men's Premium?
This product is different from the premium version because it contains less ingredients and it also requires less amount of tablets to be taken daily. It doesn't mean that it is less efficient, the later version just have additional nutrients which they simply added. The most remarkable difference I noticed is the fact that the premium version is more expensive because you need two bottles worth of supplements for an entire month.
Pros
It contains an astounding amount of bio-active ingredients which are carefully chosen to meet its main purpose.
It has anti-aging effects with benefits that is not only evident on the skin, but also a certain blend that promotes better eyesight.*
I always find it commendable when a website takes the time to educate their customers with the necessary information about the product, or the ingredients used.
The ingredients found on the product is supported by scientific evidence.
This product has actually been around for years now, and it has gathered a lot of positive feedback.
It uses an enteric-coating system which other supplements don't have. This also ensures that you get the most out of the promised nutrients.*
Cons
The product is expensive, due to the fact that it contains a lot of ingredients which can obviously added cost.
The ingredients may also interact with certain medications that you may be taking.
It requires a handful of tablets to be taken daily.
Final Verdict
Total Balance Men's is a product that is impressive when it comes to providing men with the nutrients needed for the health concerns common during their thirties and beyond. It is certainly not like other supplements I have reviewed, and it is evident in the ingredients the research and development team used.
The product is indeed on the expensive side, but if you rationalize this, you can understand why it came to be so. However, in reality this may be quite a challenge for some to maintain. Also, the risk of drug interaction is present, especially among those who are taking maintenance medications. This is why, I strongly suggest that you ask your primary care physician if this would be advisable for you.
Would I recommend Total Balance Men's to family and friends? Yes! I think this product posses a lot of nutrients which are necessary for optimum health and functioning, while addressing the common problems men fear as they turn a new leaf each year. The price may be a major drawback, but if this is a safe addition to your health arsenal, I think it' worth investing in.
Xtend-Life's Total Balance Men's Review
Total Balance Men's is a product that is formulated for men who are in their thirties and above, and the usual health concerns they encounter.
Date Published: 09/29/2015
Total Balance Men's is a product with an impressive roster of ingredients which has been proven to be effective with its years of positive effects among loyal customers.
*The claims provided by this product may not be the same for everyone due to the fact that every person reacts differently to the ingredients found in this formula. It is also for this purpose that you take caution when using this product. These claims have not been evaluated by the FDA. It is best to seek medical advice before taking any supplement.