For most women, your thirties can be a wakeup call. It is where most straighten up from all the unhealthy ways that we've had in our younger years. But of course, there are still those who still like to live it wild and free. However, in the real world our bodies eventually show signs of wear and tear. This third decade of life often shows those changes, and it can be quite alarming when you are used to feeling like you're invincible. Xtend-Life's Total Balance Women's is a supplement that is specifically designed for the health needs of women who are in their 30's.
Milestones and changes for women in their 30s
Your thirties is the age that is most known for the hormonal upheaval that occurs. This is characterized by persistent PMS concerns, the start of perimenopause by age 35, and maybe the apparent threat of female repriductive problems.
You also experience a slower  metabolism after thirty which means that you are more prone to weight gain. Exercise and sweating it out regularly is necessary to not only cut the pounds but also to promote better health. The problem is that energy levels tend to decline as well, on top of the busy schedules that a lot of women are trapped in.
This stage in your life is also pretty interesting as merging responsibilites pile up. The stress of starting a family, maintaining a job, going through romantic relationships, or the lack of it can all take a toll on your health. This is why the incidence of depression is also common in this age group.
Why you need to promote better health now
Just like saving up for financial stability in the future, you also need to bank on your health. Remember, you only have one body and this will be the only body you take with you through your twilight years. So you need to nourish it now so that you avoid the multitude of issues that can gradually creep up on you, which starts at this age.
A healthy diet and exercise is the easy answer, but something that most people find it hard to maintain. But did you know that supplements can also help fill in the gaps. Since you can't get all the nutrients you need in one meal, it pays to have that one solution that will have your bases covered. This is why Total Balance Women's is prepared to have an impressive selection of ingredients, and that is to provide you with more than your usual fare of nutrients that other supplements offer.
Total Balance Women's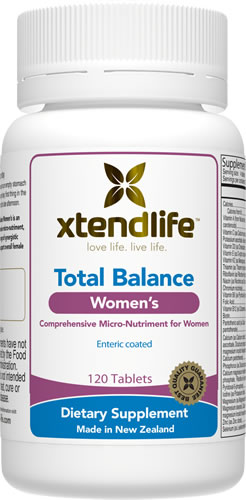 This product by Xtend-Life is designed to address the certain health needs women have in their thirties and as they grow older. It has a specialty blend of ingredients that is carefully researched and selected so that it targets the usual concerns while promoting better health overall.
Total Balance is among the earlier supplements that the company manufactured, which means that this has been around for a couple of years now. Going through the numerous feedback I found online, it can be said that this product earned a good reputation. A lot of women are finding it to help them cope with common health concerns such as menopausal symptoms, skin problems, negative processes that is related to aging. On top of all this, this product aims to boost your immune system to promote a healthier body and prevent diseases.
Ingredients
This product contains  a total of 77 bio-active ingredients, which the company claims, are carefully selected to promote optimum health for women who are in their 30's. The list of ingredients include the following:
Female Hormone Balancing Herbs:
Chaste Berry Extract
Dong Quai Extract
FeverFew Extract
Isoflavones
Red Clover Extract
Wild Yam Extract
Essential Minerals
Boron
Calcium Citrate
Calcium D-Glucarate
Chromium
Magnesium Citrate
Manganese
MSM (Methylsulfonylmethane)
Potassium Citrate
Selenium
Silicon
Zinc Citrate
Trace Minerals
Iodine
Molybdenum
Rubidium
Strontium
Tungsten
Enzymes
Amylase
Bromelain
Lipase
Nattozimes
Vitamins
Biotin
Folic Acid
Inositol
PABA
Tocotrienol
Vitamin A
Vitamin B1
Vitamin B2
Vitamin B3
Vitamin B5
Vitamin B6
Vitamin B12
Vitamin C
Vitamin D3
Vitamin E
Vitamin K2
Amino Acids & Specialty Nutrients
5-HTP
Adenosine Triphosphate (ATP)
Alpha Lipoic Acid
Astaxanthin
Beta 1,3 Glucan
Choline Bitartrate
Coenzyme Q-10
DMG (Dimethyl Glycine)
L-Arginine HCL
L-Carnosine
L-Glutamine
L-Histidine HCL
L-Methionine
L-Tyrosine
Lutein
Luteolin
Lycopene
N-Acetyl Glucosamine
N-Acetyl L-Cysteine
Phosphatidyl Choline
Piperine
Policosanol
Resveratrol
Rutin
SAMe
TMG
Zeaxanthin
Herbal Extracts
Alfalfa Extract
Bacopa Extract
Black Cumin Extract
Gingko Biloba Extract
Green Tea Extract
Turmeric Extract
Other ingredients include:
Calcium Phosphate Carboxymethyl Cellulose
Dextrose
Magnesium Stearate
Microcrystalline Cellulose
Silicon Dioxide
Optisharp
Tocomin
Having reviewed several other Xtend-Life products before, it comes as no surprise that this one also contains an astounding list of nutrients. Its formula contains the necessary ingredients that targets the main causes of aging, right down to the molecular level.
Its hormone balancing herbs are all tried and proven by studies to be effective. With the decline in estrogen once you hit your thirties, and the negative changes that come with it, this blend can help prevent or restore hormonal balance.
Did you know that promoting hormonal balance at this age helps you prevent a  bevy of conditions as you grow older? For instance, the fact that declining estrogen levels also affect bone demineralization in women. When you bank with the necessary nutrients today, you avoid serious conditions like osteoporosis or arthritis from developing.
Aside from addressing the specific health issues women face at this decade, it also targets the five main cases of aging such as, free radicals, glycation, methylation, inflammation, and DNA degeneration.*
The extensive list of vitamins, minerals and antioxidants are chosen specifically to serve an anti-aging action. But unlike other supplements, Total Balance Women's address glycation, methylation and inflammation. These terms may sound foreign to you, so to cut the confusion let's just say that these three are the insidious processes that hasten aging, health decline, and the development of diseases.
Another thing that is worth noting about Xtend-Life products is the fact that each tablet are enetric-coated. This menas that it has a certain protection which prevents it's premature breakdown as it passess through the highly acidic environment in the stomach. This allows the supplement to bring the necessary nutrients to each cell of the body with the desired amount.* This is something that the pharmaceutical industry use, and yet this brand is taking the extra pains to ensure that you get what you are paying for. A definite plus, I must say.
Directions
Instructions specify that you need to take 4 tablets each day split into two doses. This means you will be taking two tablets in the morning, and another two around mid to late afternoon. It was also mentioned that this has to be taken on an empty stomach to create optimum results.
It was mentioned on their official site that Total Balance products is best combined with Omega 3/DHA Fish Oil to create a stronger health foundation. As much as this process is paved with good intentions, it can be inconvenient for some because of the amount of tablets you will be taking on a daily basis.
How it works
The effective blend of specialty nutrients which they choose for women helps reduce menopausal symptoms, address PMS and improve libido.*
The impressive foray of ingredients all work synergistically to give you an improved sense of well-being, increased energy levels, better skin, quality sleep, an improved eyesight, and a sharper mind.*
Total Balance Women's also promote a healthier cardiovascular system, improved blood profiles and prevention or elimination of allergies.*
Overall it helps maintain your body in a state of balance to provide you with an excellent foundation for optimum health.*
Price and Purchase
A bottle of Total Balance Women's contains a total of 120 enteric-coated tablets, which is a 30-day supply. This will cost you $85.60, and it is something that is more expensive than other supplements. However, if you rationalize this, the number of ingredients will only explain the cost. There are a lot of nutrients in the list which are quite expensive, and on top of that is the enteric-coating which is also an additional process during manufacturing.
How is it different with the PREMIUM version
This product should not be confused with its newer version, Total Balance Women's Premium. The latter costs more, but it also contains an extra 2,429 milligrams of bio-actives for each day.
Advantages
This product earned a lot of good feedback over the years.
It contains an impressive amount of ingredients which goes beyond the usual list that most supplements have.
Its enteric coating is definitely a plus because it allows you to get the promised dosage of nutrients that is listed on the label. This means that you are getting what you are paying for.
Aside from giving your body with the ntirents to keep it healthy and free from diseases, it also targets several issues that goes behind aging.*
It also addresses beauty concerns.*
Drawbacks
With that many ingredients, there is a good chance that it could create interactions with any medication that you may be taking.
A lot of the complaints stemmed from the fact that you need to take several tablets everyday.
The product contains some ingredients that contains peanuts, therefore those with peanut allergies should steer clear from it.
The product is expensive.
Final Verdict
One thing is for sure about this product, and that is the fact that it aims to  go beyond the usual. They take the extra effort to research and develop the right blend of nutrients so that they target several issues unique in the market they are aiming at. The sheer number of pills to be taken daily can be an inconvenience, especially for women who are already taking several medications. On top of this is the cost that you need to maintain on the monthly basis because a bottle is pretty expensive.
However, with the negative aspects taken into consideration, I still find this product worth trying or maintaining. The fact that it earned a lot of good feedback over the years speaks a lot about its effectiveness. I would recommend this to friends and family, however, with the precaution that they need to consult their doctors first to ensure that they are in the clear to take such a supplement.
For women who are serious in taking their health, and the future of their well-being, Total Balance Women's is a supplement that is worth investing in.
Total Balance Women's Review
Total Balance Women's is a supplement by Xtend-Life designed for women and their health needs as they reach their thirties and even as they age further.
Date Published: 09/30/2015
Total Balance is a product that provides a very promising blend of nutrients to cater to the specific needs of women as they age.
*The claims provided by this product may not be the same for everyone due to the fact that every person reacts differently to the ingredients found in this formula. It is also for this purpose that you take caution when using this product. These claims have not been evaluated by the FDA. It is best to seek medical advice before taking any supplement.