Heart attacks, stroke and cancer are the topmost common conditions that we are all exposed to today. Aside from genetic predisposition, our lifestyles can also be a major triggering factor. A healthy diet are among the many things that can help turn things around, but this may not be enough to give us the protection we need. This is where supplements like XtendLife Omega 3/DHA Fish Oil comes in. Let's take a closer look if it is enough to give us the protection we need.
Fish Oil Supplements and Good Health
Fish oil supplements are products that is able to lower triglyceride levels in the body, while also promoting anti-inflammatory effects. The oil is derived from the tissues of fatty or oily fish such as mackerel, tuna, herring or halibut. You can get these oils by eating the fish itself, or by supplements.
Today, fish oil supplements are among the most successful in the market because of the benefits these promise to provide. It is able to lower cholesterol levels, reduce triglycerides, control blood pressure, and prevent heart disease.
It is the Omega-3 fatty acid content that puts fish oil among the pantheon of superfoods. It has two fatty acids called docosahexaenoic acid (DHA) and eicosapentaenoic acid (EPA).
In the market today you can find numerous fish oil supplements that it can be quite overwhelming for consumers. Let us cut through the confusion and focus on XtendLife's Omega 3/DHA Fish Oil, and see if this is a product that can be worth investing in.
XtendLife Omega 3/DHA Fish Oil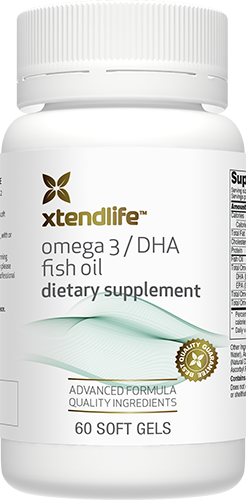 The fish oil in this product comes from a certain kind of fish which is not among the common sources, called the Hoki fish. This fish is harvested from the pristine waters of the Southern Ocean off the coast of New Zealand. This is processed by a company also from the same country called XtendLife, who has been in the online supplement scene since 1999.
The manufacturer claims that the product contains high levels of DHA and EPA, and that is something that we all want from our fish oil supplement. But one thing that the brand highlights is the level of purity and potency of their raw ingredients. So let's take a closer look into what these are.
Ingredients
As mentioned earlier, the product contains oil that come from the Hoki fish. To be honest, I am not familiar with this type of fish because tuna was the most popular source for omega-3. But as I delved deeper I learned that this type of fish, which is mainly found in the waters of New Zealand, is actually free from pollutants such as mercury and other heavy metals. Tuna or cod fish are found mostly in already contaminated waters which consequently makes some fish oils substandard as well.
Based on the information found on the website their formula contains a propriety blend of Tuna oil and hoki. It also contains a total of 3 omega-3 fatty acids: DHA (Docosahexaenoic acid), EPA (Eicosapentaenoic Acid), and DPA (Docosapentaenoic acid). On top of this the supplement also contains Omega 6 and Omega 9 Fatty acids.
What we are most familiar with is Omega-3 fatty acids, but Omega-6 is also just as important. According to information from the University of Maryland Medical Center, Omega-6 fatty acid is able to counter conditions like diabetes, rheumatoid arthritis, and allergies. These two is what we call polyunsaturated fatty acids. Omega-9 on the other hand is a monounsaturated fatty acid and it also promotes heart health and control blood sugar.  These three together promotes cardiovascular health and general wellness.
The website also mentioned that the product contains the following:
Capsule (Gelatin, Glycerol, Water), Antioxidant Blend (to preserve freshness (Sunflower oil, Natural mixed tocopherols, Soybean oil, Sunflower lecithin, Rosemary extract, Ascorbylpalmitate)), Natural mixed tocopherols.
Soy (results from the mixed tocopherols) and Fish (Tuna and Hoki (NZ Whiting))
The product does not contain gluten, dairy, peanut and shellfish.
How is it taken?
A bottle of XtendLife's Omega 3/DHA Fish Oil contains 60 soft gel capsules, and it is directed that you take 2 capsules everyday.
How it works
The fatty acids found in fish oil reduce pain and swelling. It also prevents the blood from clotting easily.* For this reason it is important that you consult your doctor before using the product or if you are scheduled for surgery because this may cause certain untoward side effects. It also lowers the body's level of triglycerides, or harmful fats. Studies even show that it is also able to modestly control blood pressure levels. This is the reason why fish oil is very helpful in preventing cardiovascular problems in general.
Price and Purchase
XtendLife Omega 3/DHA Fish Oil is relatively pricier compared to other similar products. A bottle would cost you $29.55. This can be purchased directly from their site to ensure that you are getting the real deal. You can also avail of their volume discounts on their official page. What I like is that they offer a 12 month money back guarantee. This is something that I haven't encountered yet before, and it does say a lot about the company's confidence in their product.
Benefits
One of the major selling point of this product is the purity of the products. If you browse through their website the company publishes their COA (Certificate of Analysis). This supports the freshness, purity and effectiveness of their product. This also implies that you are really getting what is being mentioned on the label.
The product also has a high bioavailability because it uses a natural ethyl ester or triglyceride and not synthetic ones which most fish oil supplements are known to be prepared in.
It doesn't give you "fish burps."
Even though it contains tuna oil, they assured that any mercury content is mollecularly removed to maintain the overall purity.
12 month money back guarantee.
I found a lot of positive feedback about the product.
Drawbacks
It is pricier compared to other brands.
Not vegetarian
Final Verdict
With the price aside, most of what I learned about this product points to the positive. XtendLife Omega-3/DHA Fish Oil is actually a product with a promise. They emphasize the importance of purity which is very important, especially with the constant threat of contamination that looms over the fish oil business. They also assure as effectiveness which can also be supported by positive feedback from others who have tried it. Their transparency in manufacturing is also plus because as a consumer it is a strong assurance that I am getting what I am promised. This makes the price all worth it.
XtendLife Omega 3/DHA Fish Oil is a product that is worth trying. If it doesn't give you the results you want, they have a 12-month money back guarantee to protect you from getting ripped off. Overall this product is promising on paper alone, but it has also shown to be effective among customers.
XtendLife Omega 3/DHA Fish Oil
Omega 3/DHA Fish Oil formula delivers high levels of DHA and other Omega 3 fatty acids such as EPA
XtendLife Omega 3/DHA Fish Oil
Date Published: 09/01/2015
XtendLife Omega 3/DHA Fish Oil is a product that promises to promote cardiovascular health, one of the major health risks most of us are exposed to.
*The claims provided by this product may not be the same for everyone due to the fact that every person reacts differently to the ingredients found in this formula. It is also for this purpose that you take caution when using this product. These claims have not been evaluated by the FDA. It is best to seek medical advice before taking any supplement.